I don't know what it is about Payson going to kindergarten that is getting to me this week. I didn't feel this tremendously emotional about either of my girls going to school. Sad, missing, sure. But a complete mess? Nope!
I don't know if it's that he was my third baby and therefore so much more a baby than the older two. I don't know if it was that he is my only boy (for now), or because he had so many physical issues and that made me coddle him a whole lot, I don't know. I just know, preparing to send my little boy off to school has made me nonstop teary for the past few days.
Ever since I registered him I can barely sleep at night, thinking about him going off to school and being in someone else's care. I just want his teacher to care about him. That's really all I want. I also want him to have fun and love learning there like he does so much at home. I want him to make good friends and be liked by his fellow students because I know how important people are to him. Of all my kids he's the most social, he's the one who thrives on as much interaction with others as he can possibly get. And I just want for him to get that and for it to be good, all good and no bad.
I went shopping tonight after the kids were in bed for school lunch groceries. It was crazy weird shopping for lunches for my boy. As intense as it's been parenting him (he's required SO much work in his five short years!) I never really stopped to think about how I'd really feel when he actually goes to school. And it turns out, I feel really sad!! haha!
There's no part of me that wants to keep him home, or to homeschool him, as I know he wants to go to school more than practically anything else in the world. And providing him with as much social interaction as he wants is just not a possibility for me... and, I am looking forward to spending the last trimester of this pregnancy with only one at home to worry about for a good chunk of the day! But, I am going to miss him a
lot
. I'm going to worry about him a
lot
. I'm going to smother him when he's home a
lot
.
So anyway, I packed his lunch tonight to save time in the morning, and teared up the whole time. Funny cutting up fruit and crying. haha! I'm such an emotional wreck right now. I'm not ready to have this baby yet but I sure am excited for when my regular hormones return one day! haha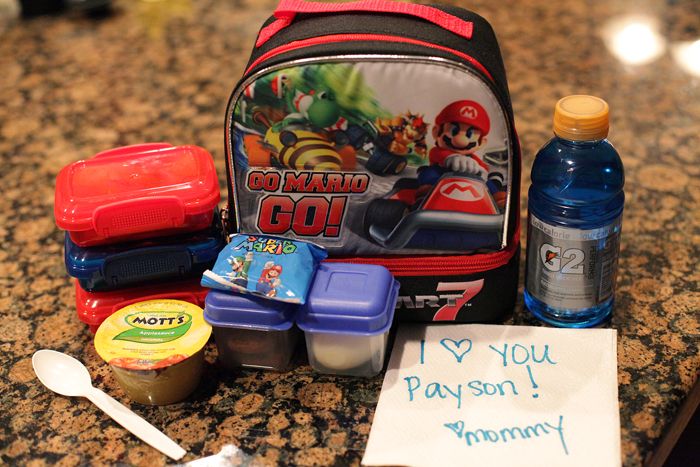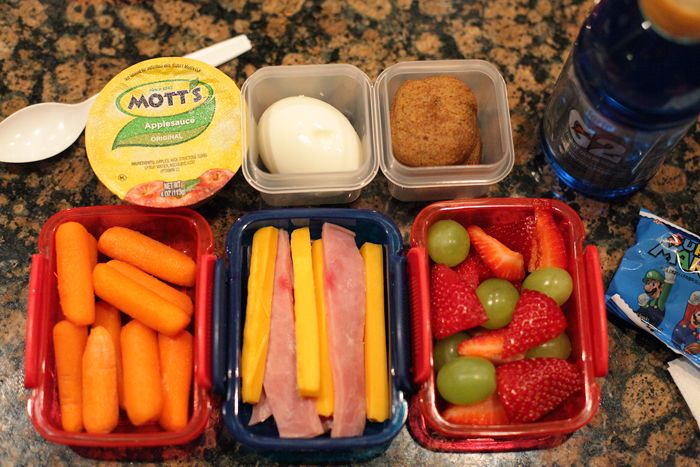 The kindergarteners have snack every day. Since Payson is allergic to gluten I have to bring a separate snack for him than the rest of the class. I hope his almonds and rice krispy treat don't pale in comparison to what everyone else has!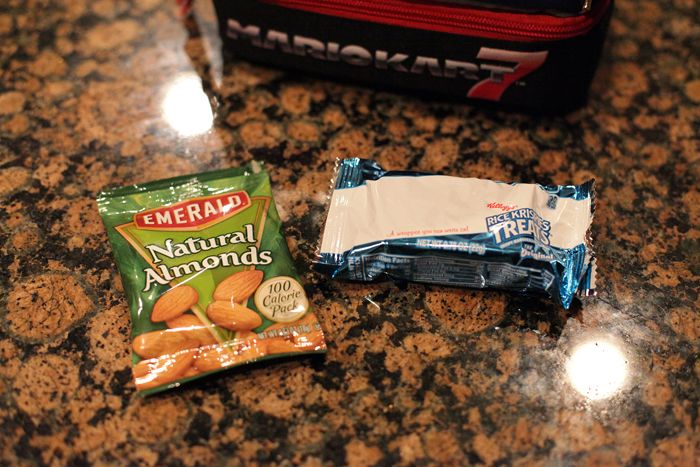 I think he'll be most excited about the Super Mario fruit snacks I found! But also the Gatorade because my kids rarely get juice and he loves Gatorade.
Once he drinks that bottle's worth, though, I'm refilling it with water for the rest of the year. But for day one, yay for Gatorade!